From humble beginnings -- to the American Dream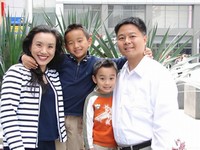 TOGETHERNESS -- Ted W. Lieu with his wife, Betty, and sons Brennan and Austin.
Looking for a better life and opportunity for their children, Ted Lieu's family immigrated to the United States when Ted was three years old. Starting off living in someone's basement and selling gifts at flea markets, the Lieu family cobbled together the American dream. Ted's family went from poverty and not speaking English to opening up a gift store where Ted and his brother would help out in the family business. After many years of perseverance his parents were eventually able to expand to six stores.
With the support of hard-working parents and a country that provided limitless opportunity, Ted would go on to attend Stanford for his undergraduate degrees in Computer Science and Political Science, and then Georgetown University, where he received his law degree magna cum laude after serving as Editor-in-Chief of the law review. Ted also received four American Jurisprudence Awards.
Recognizing the great opportunities America had given to his family, Ted wanted to serve his country. He joined the United States Air Force, where he served as a prosecutor in the JAG corps. After serving on active duty for four years, Ted wanted to continue to serve his country and joined the reserves. Currently, Ted wears a uniform in the JAG corps and was recently promoted to Lieutenant Colonel. Ted has received numerous medals for his outstanding military service, including the Air Force Humanitarian Service Medal and two Meritorious Service Medals.
Military service brought Ted West
Ted's service at Los Angeles Air Force base is what brought him to Southern California. Professionally, Ted clerked on the Ninth Circuit Court of Appeals, practiced civil law at Munger, Tolles & Olson, and then worked at a financial services company before he joined the Legislature. Locally, Ted continued to serve his community. Ted served on the Rampart Independent Review Panel, the Torrance Environmental Quality and Energy Conservation Commission, and was later elected to the Torrance City Council. When the local Assemblymember passed away suddenly in 2005, Ted was overwhelmingly elected in a special election.
Legislative overview
While serving three terms in the Legislature, Ted was a leader in standing up to Wall Street's excesses, reforming the subprime mortgage industry, increasing green buildings, reducing global warming, protecting public safety, and preventing domestic violence. Ted has repeatedly stood up to powerful interests on behalf of consumers, crime victims, seniors, children, and those without a voice.
In 2011, for example, laws he sponsored helped create jobs, save taxpayer dollars and protect children by banning anyone under 18 from using cancer-causing tanning beds.  (A complete list HERE or at www.senate.ca.gov/lieu)
He has been honored for his work by the CA Partnership to End Domestic Violence, Crime Victims United of California, the California State Sheriffs Association, the American Legion of California, CalPIRG, Environment California, the Humane Society and many others. He served as Chair of the Assembly Banking and Finance Committee, Chair of the powerful Rules Committee and as Chair of the Select Committee on Consumer Financial Protection.
The love of his life, his wife Betty, is a former California Deputy Attorney General. They reside in the city of Torrance with their two sons – Brennan and Austin.
Ted W. Lieu represents nearly 1 million residents of Senate District 28, which includes the cities of Carson, El Segundo, Hermosa Beach, Lomita, Manhattan Beach, Redondo Beach and Torrance, as well as portions of Los Angeles and Long Beach.